Steelwork Erection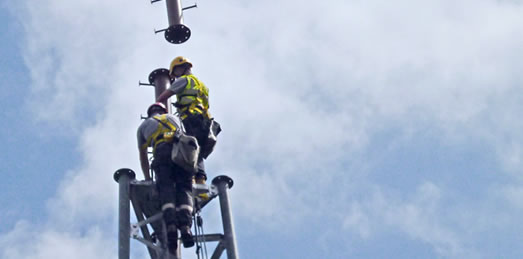 NG Rigging installs varied types of steelwork on rooftops, towers and masts at heights up to and in some cases exceeding 300m agl
Our steelwork erection teams install the following types:



MW dish / single antennae pole mounts


Large antennae mounting frames (3 to 6 no. sector antennae)


Large MW dish mounts (up to 3.0m dia)


Delta frames (supporting multiple operators)


Standard tower extension sections (upgrade sites)


Specially designed tower extensions / climbable poles


Case Study
Digital Switchover Transmission Upgrade
In late 2009 NG Rigging were approached by The Bridge Networks North Ltd to provide consultancy and a specialist climbing team to aid in the removal and replacement of a large antenna cylinder mounted on the top of a 45m tower in Bristol. The planned upgrade works were to be the first major Digital Switchover project they would complete for Arqiva.
read more